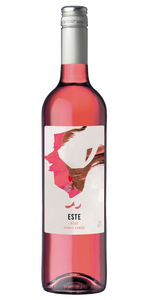 TASTING NOTES
Fruity, semi-sweet, harmonious, fresh and versatile, ideal for the celebration
of the emotions, the passions... a wine for the most relaxing moments. 
Este Rosé is a Vinho Verde of salmon color obtained from red grapes, vinified by the classical method of the white wines.
SERVING SUGGESTIONS
It's the perfect accompaniment for aperitifs, snacks, salads, grills and the
generality of the international cuisine.
It should be consumed at a temperature between 6 and 8ºC.

SPECIFICATION
TYPE -  Rosé
REGION - Vinho Verde
COUNTRY - Portugal
GRAPE VARIETY - 40% Vinhão, 30% Borraçal, 30% Espadeiro