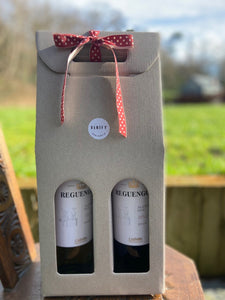 Reguengos Alentejo DOC - Red 2019 (14.5%)

TASTING NOTES
Crystalline wine, garnet color, aroma of black and red fruit and cocoa, soft and full-bodied, with soft tannins and a persistent finish.
It goes very well with roasts, sausage and cheeses.
SPECIFICATION
TYPE - Red
REGION - Alentejo
COUNTRY - Portugal
GRAPE VARIETY - Trincadeira, Aragonez, Castelão
Reguengos Alentejo DOC - White 2020 (13.5%)
TASTING NOTES
Wine of crystalline aspect, faint straw color, fruity aroma with citrus and tropical fruit notes, in the mouth it is balanced and fresh.
This Wine would make a fine accompaniment to gazpacho, grilled or stewed fish, seafood and sushi. 
SPECIFICATION
TYPE - White
REGION - Alentejo
COUNTRY - Portugal
GRAPE VARIETY - Siria, Antao Vaz