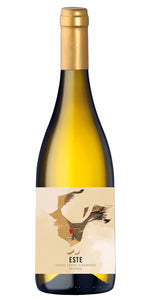 TASTING NOTES
It's a Vinho Verde of citrine colour, obtained exclusively from a rigorous selection of one of the most illustrious white grape varieties of the vinho verde's region "Alvarinho".
It is a dry wine with tropical fruity, complex and engaging, it's an elegant wine, with unusual features, making it a pleasant fellowship for special occasions. 
FOOD PAIRINGS
It is ideal for a variety of appetisers, being specially recommended for white meat, fish and seafood dishes. 
SERVING SUGGESTIONS
Drink at 10-12 °C. 

SPECIFICATION
TYPE -   White Wine
REGION - VINHO VERDE
COUNTRY - Portugal
GRAPE VARIETY - Alvarinho